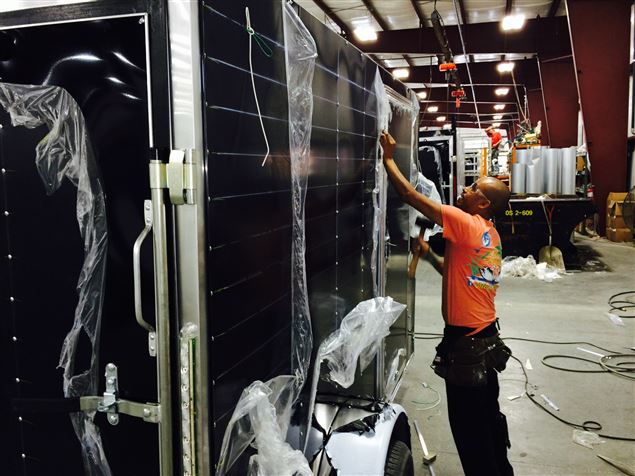 LGS Industries grew from 98 employees in 2010 to 360 today. The company was recently ranked as one of the fastest growing privately held companies in the country.
by JEFF PARROTT/The Elkhart Truth
As the recession sunk much of Elkhart's economy in early 2010, Matt Arnold could have simply hunkered down and prayed he'd hold on to his finance job at Precision Painting, a company that paints newly built recreational vehicles. 
Arnold did just the opposite. Despite enjoying his work at Precision Painting, he left it to launch Look Trailers Inc. in Bristol, which manufactures enclosed steel cargo trailers. He had grown up in the industry, working for years at a cargo trailer plant his father founded. 
Arnold says he wasn't scared. 
"I like a challenge, and I like looking at what this can continue to grow into," Arnold said. "I think I was more surprised by the growth than afraid of the challenge." 
More than four years after its entry into the highly competitive market, LGS Industries, which includes Look Trailers, was recognized as one of the nation's fastest-growing privately held companies when it made the Inc. 5000 list. 
The company ranked 1,013, posting 2013 revenues of $50.9 million – a 439 percent increase over 2010. Employment has grown from 98 in 2010 to 360 today, combining plants in Middlebury, Georgia, Utah and Arizona. 
Part of that growth can be attributed to Arnold's November 2011 purchase at bankruptcy auction of Pace American trailers. The LGS umbrella – LGS standing for the names of Arnold's children Landon, Gabrielle and Spencer – encompasses the brands Look, Pace American and Cargo Express trailers. 
Look had outgrown its first buildings in about a year and a half, so the Pace American acquisition was a key to continued expansion. Earlier this year the company consolidated manufacturing locally at the 22-acre former Pace American complex on Harter Drive in Middlebury, vacating the original Look plant in Bristol, which was later occupied by nearby horse trailer maker Lakota. 
After demolishing some old structures in June 2013 and constructing state-of-the-art welding and assembly buildings in Middlebury, production capacity doubled from 60,000 square feet in Bristol to 120,000 square feet in Middlebury. There remains room to grow. 
Like many Elkhart area employers, LGS Industries has posted a "NOW HIRING" sign outside the complex. 
"The biggest struggle or problem today is people," Arnold said. "That's the most expensive commodity. The growth in this area has made people harder to find. I don't think, really, we've stopped hiring since we started. It's get them, train them and retain them." 
With about seven percent of the cargo trailer market, LGS Industries is now the nation's second-largest manufacturer, behind Forest River at 10 percent and ahead of more than 40 other competitors. Several trends are driving the industry's growth: 
More people buying snow mobiles and all-terrain vehicles, or ATVs

RV owners using cargo trailers to pull their cars

Home construction contractors using the trailers to haul equipment

The growth of landscaping firms

 
There's also been some pent-up demand. During the economic downturn, a lot of people held on to their trailers and wore them out, so now they're buying new ones as their situations improve. 
Arnold said he expects the company to continue growing modestly, but he isn't sure it will ever return to the high levels it enjoyed in 2004 and 2005. 
"I see a more steady growth," he said. "I see strong possibilities as people get more disposable income and get into retirement, they want a trailer. From that standpoint it looks good." 
While he acknowledges the Inc. 5000 listing can't hurt his marketing, Arnold said he was most excited about the opportunity it gives him to thank his employees for their hard work. 
"We're not necessarily going to leverage it to buy more business, but it's a good reminder and a thank you to the employees that built it and to the dealers," Arnold said. "It isn't me that's built this company. To me this award is representative of all the hard work. How many start-ups fail that started in 2010? The competitors we came up against were still hurting pretty bad."