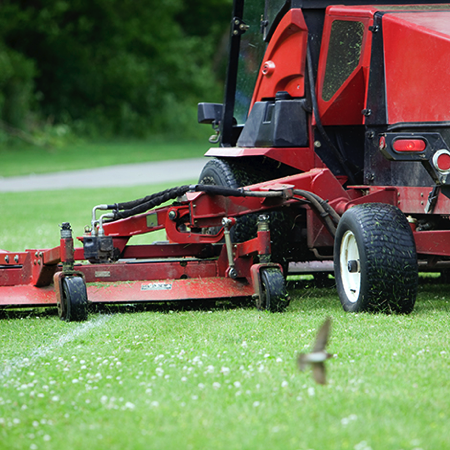 Pace American Trailers a cut above commercial landscaping equipment
Some landscape trailers simply make the cut. Others will raise your expectations. At Pace American Trailers, our enclosed landscape trailers are some of the hardest working trailers in the industry. Built tough, these trailers provide secure, accessible storage for all of your expensive commercial landscaping equipment. 
This spring, consider letting us cover the security, organization and transportation of all of your landscaping equipment so you can focus on getting the job done. You have to admit that a spring-assist ramp door would make loading the mower easier. Add a couple of side doors for easy access to sprinkler components, plus a couple of ladder racks to reach gear, and you'll be ready for this season. 
Custom landscape trailers for the way you work 
We all like to do things a certain way. And no matter how well we know our customers, no one knows the ins-and-outs of your job like you. With an impressive list of standards, plus loads of customizable options, your new enclosed landscape trailer not only will fit you to a T, it'll help you present an organized, professional face to your clients. We've gathered some ideas for you based on the landscape equipment you might haul in your enclosed trailer. 
If you're just getting started in the landscaping business … Check out Pace American's Journey Cargo Trailer, our most economical trailer. This mid-level, versatile landscape trailer is the best value thanks to a long list of standard features. Journey's 5-, 6-, 7- and 8.5-foot models provide easy towing for new landscapers, while its steel tube frame construction means it'll see your business through for the long haul. 
If you need to haul a riding lawn mower … Consider the premium, heavy-duty Cargo Sport. The largest Cargo Sport trailer runs 8.5-feet wide and more than 32-feet long with tandem axles and 100" of interior height, making it spacious enough for the most serious of lawn equipment. All Cargo Sport trailers are loaded with high-end features for the landscaping professional. For additional storage and enhanced aerodynamics, consider a V-nose profile. 
If you need to store sprinkler and irrigation supplies … Pace American's Contractor Trailer should be on your short list of enclosed landscape trailers. This trailer has lots of storage options, plus outside access to the parts and tools you need most. Imagine having custom storage space for every type of emitter, fitting and drip irrigation tool, plus connectors and drainage pipe fittings.
If you're on a big job for an extended time … The Pace PXT Cargo Trailer has the brawn to handle your biggest landscaping jobs. This heavy duty cargo trailer can't be beat for reliability, safety and durability. It was built for people just like you who need their trailer to perform every day—on the job site or on the road. Available in several lengths, the seven-foot wide PXT is narrow enough to maneuver to and around almost any job site. You'll confidently climb narrow passages and avoid ever having to park and manually haul equipment or cargo because your trailer won't fit onto your jobsite.  
Let Pace American Trailers build you the enclosed landscape trailer of your dreams
Good landscape trailers do more than get your gear from place to place. They are one of the professional landscaper's most important tools. Don't you deserve the best equipment available? Spring is less than a month away. Now's the time to choose a trailer to handle whatever Mother Nature throws your way.