A Pace American trailer backs Billy Rhodes and his award-winning BBQ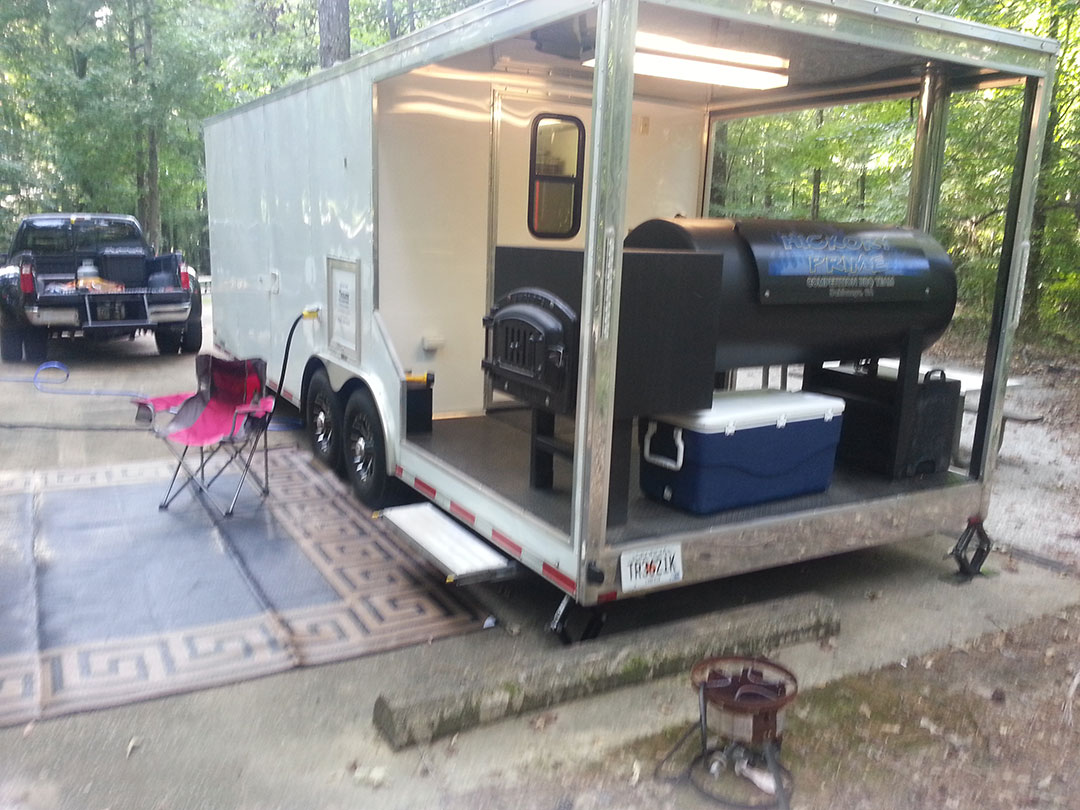 The sun hasn't risen yet, but the heavy aroma of hickory wood mixes with the sweet scent of cherry. While most of the nation is sound asleep, Billy Rhodes of Hickory Prime BBQ is stoking the coals to make sure the temperature is just right for his award-winning cuts of meat. Sometimes, his "day" starts at midnight. If he's lucky, 2 a.m. But Billy knows it takes patience to create the right flavors, and with him every step of the way is his trusted 2015 Pace American concession trailer. This mobile storefront serves many uses, whether it's on the road, at competition, back at home or simply on display. 
Pace American's hard workers have always prided themselves on reliability, functionality and owner satisfaction, so that's why we're taking a moment to spotlight one of our very own customers and his award-winning business — Billy Rhodes. 
We spoke with Billy while he was en route to his next BBQ competition in beautiful Alabama. With his grilling equipment riding safely behind him in his own custom concession trailer, Billy happily discussed his passion for BBQ and how he spends weekend after weekend chasing those prized championships while working and living in a trailer that seems to do it all. 
A concrete business owner for many years, Billy didn't start competing in the BBQ circuit until 2007. After a few successes, Billy realized he had a knack for the Pitmaster process, and eventually, he quit his concrete job to make grilling and smoking a full-time calling. After a few years working in and around vending trailers, Billy knew what he wanted in his own trailer. When he took his first gander at a Pace American concession trailer, he found that the 30' long trailer had most everything he needed — a brimming list of standards, plus loads of space. 
Competing at a top level since 2012, Billy now knows all the the ins-and-outs of the BBQ business and how to make the most of his concession trailer. He's won numerous awards, including state championships in Virginia, Maryland, Mississippi, Alabama and Kentucky. For the 2016 BBQ season, Billy has smoked his way into the nation's Top 12 best BBQ masters — in part thanks to his trailer's many standard features. 
Still, Billy will tell you options are essential in a successful business, which is why he was drawn to Pace American with its many unique features. Billy likens Pace American's options to the five different sauce choices he serves up at his Georgia restaurant, ranging from a vinegar-based North Carolina sauce to the mustard-based flavor found in his South Carolina BBQ. "Our customers can't say they don't like something because of the sauce!" Billy laughs. At Pace American, every trailer offers its own personal style, many with a long list of color choices to complement the trailer's many functional upgrades. Some even offer a two-tone color package. 
When it came to customizing his own trailer, Billy opted for a larger 45-gal. water tank. His trailer also features raised outlets to accommodate custom cabinets, and this Pace American trailer packs its very own living quarters for convenience. In fact, Billy spends weekend after weekend traveling to competitions. He has 18 BBQ competitions in the bag this year, and he will complete 30 to 35 before the year is up, which makes for a lot of trailer living. While most of his competitors shack up in a nearby hotel, Billy's prefers to stop at a nearby KOA Campground where he can keep his livelihood close by without forking over pricey nightly rates. 
When Billy isn't traveling from state to state, he's running Hickory Prime BBQ, a highly-rated restaurant in Dahlonega, Georgia, just a mile away from his home. While Billy prefers the "indescribable" flavors brought out by heavy hickory wood, the three-year-old restaurant didn't earn its moniker from his grilling technique. The name harkens back to Billy's roots in Hickory, Virginia, a small rural community in Chesapeake Virginia where access to time-tested BBQ methods was always a stone-throw away. Decades later, Billy looks back on these roots as a sign that he was meant to be in the BBQ business. When Billy is back at Hickory Prime BBQ, his Pace American is used as a mobile BBQ catering trailer, sometimes even doubling as a 30' billboard for his company. 
A road warrior of sorts, Billy has seen his share of concession trailers, so he'll be the first to admit Pace American's quality took him by surprise. After seeing his fellow competitors hassle with trailer maintenance and untimely repairs, Billy expected common trailer pitfalls, but competition after competition, his Pace American delivers. "While everyone else seems to have problems, we simply don't," he said. In fact, Billy refers to his custom vending trailer as "stout" thanks to its tough dependability. Every Pace American trailer rides on tube main frame construction and boasts a standard one-piece aluminum roof. Without the constant need for TLC, Billy's time is better spent dousing a rack of St. Louis-style ribs in his personal dry rub. 
In the end, this roving Pitmaster is proof alone that sometimes the right tools can make all the difference. Of course, determination goes a long way as well. We wish Billy a successful 2016 season, and during your next Georgia visit, make sure to visit his Hickory Prime BBQ restaurant: 
Hickory Prime BBQ
1724 Morrison Moore Pkwy
Dahlonega, GA 30533
706-864-9472