TIPS FOR KEEPING YOUR RIDE CLEAN, SAFE AND DRY WHILE HAULING, FROM PACE AMERICAN
You've carefully selected your bike, detailed it, polished it, maintained it, and cleaned it. When you transport it to rallies, shows, and other biking events, you want it to get there safely and looking great. Don't risk dirt and damage while hauling! To protect your investment, choose an enclosed motorcycle trailer that will keep your bike safe from dings, scrapes, road hazards and the elements.
Here are our pro tips for choosing an enclosed motorcycle trailer that will cradle your baby no matter how rough the ride. And don't miss our advice on how to safely load and secure your motorcycle in the trailer, below.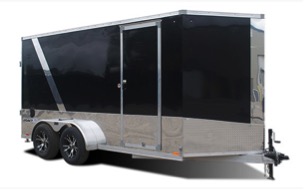 What to look for when choosing a motorcycle trailer:

1. Protection from the elements. An enclosed motorcycle trailer, like the Legacy motorcycle trailer, offers the safest and most secure way to transport your bike. With an enclosed trailer, your bike stays clean (no mud or road dust) so it's ready to display as soon as you arrive at your destination. An enclosed trailer also provides protection against rocks and other road debris that can hit and ding your bike when it's out in the open.
Pro Tip: when choosing a trailer, be sure to look for a one-piece roof to help keep rain out. Nothing invites leaks more than a seamed-together roof.

2. The right ramp. Many a motorcycle has been damaged during loading. Make-do ramps, such as a piece of plywood can slip or collapse while loading. And any ramp that is too steep or short can make loading difficult and unsafe–for the bike and the people loading it. Ideally, you should look for a sturdy, attached ramp that extends at a low angle to smoothly glide the bike inside. Pace American motorcycle trailers include a beavertail and Ramp Door with Spring Assist & 12″ Ramp Door Extension.
Pro Tip: Make sure the ramp can handle your motorcycle's weight. A minimum rating of 800 lbs. is recommended.
3. Steady riding. The road to your next event is paved with bumps, potholes, and other driving hazards. Every time you hit—or swerve to avoid—one, you risk damaging your bike if it's not securely tied and locked down. To keep your motorcycle from jostling around on your journey, make sure the trailer has wheel chocks to hold the front tire in place and a tie-down system (such as a 6-piece floor E-track) with straps to hold the front, center and rear of the bike in place.
Pro Tip: Experts recommend ratchet straps for the most secure tie-down. (See how-to tips, below.)
4. Tough construction. Your precious cargo will have a smoother ride if you choose a well-built motorcycle trailer. Look for one with a strong mainframe, spring axles, E-Z Lube hubs, and four-wheel electric brakes to protect both your investments: your trailer and your motorcycle. 
Pro Tip: Enclosed aluminum motorcycle trailers with tube mainframe construction combine lightweight aerodynamics with strength.
5. Custom comforts. To really baby your baby, and for your own convenience and peace of mind during the journey, choose a trailer with options that suit your specific needs. Extra dome lights, electrical outlets, a ramp extension, and a white vinyl interior are popular options. But a custom motorcycle trailer can be fitted with almost any style, convenience, or added-safety measure you might need.
Pro Tip: Personalize your custom motorcycle trailer with a stand-out color or by adding flame decals.
Standard features on a Legacy Aluminum Enclosed Motorcycle Trailer:

• Tube Frame on 24" O.C.
• 16" O.C. Sidewalls
• 24" O.C. Roof Bows
• Torsion Axles
• 15" Radial Tires
• Aluminum Rims
• 2-5/16" Coupler
• 2000# Front Wind Jack
• Sand Pad
• 3/4" Floor
• White Vinyl Walls
• White Vinyl Ceiling
• 30" Wedge Slope Nose
• .030 Screwless Exterior
• Two Tone Exterior with Chrome Stripe
• Polished Aluminum Nose
• 24"H Polished Alum. Exterior Bottom & Rear
• One Piece Aluminum Roof
• 24"H .025 Embossed Aluminum Stoneguard
• Ramp Door
• 12" Ramp Extension
• Aluminum Transition Flap
• 32" Side Door with Flush Lock
• (2) Sidewall Vents
• LED Tail Lights
• Bullet LED Clearance Lights
• 12V LED Load Light & Switch Rear Ramp
• (2) LED Dome Lights
• (1) Switch
• (8) 5000# D-Rings (Installed)
• (2) Removable Wheel Chocks
• Limited 3 Year Warranty
How to safely load and secure your motorcycle:

Once you've chosen the right motorcycle trailer for your needs, make sure you don't damage the bike before your trip has even started. Here are our pro tips for safe and secure loading.
1. Guide, don't ride. Riding the bike into the trailer may seem like a logical plan, but most pros don't recommend it. It can be hard to control the motorcycle while trying to get enough momentum to get up the ramp and then stopping it short once you get into the trailer. You can easily harm yourself, the bike, and the trailer. Instead, experts advise you to stand to one side of the bike and guide it up the ramp.
2. Use the buddy system. A second pair of hands will make it easier to move the motorcycle, help keep it stable and upright as you load, and maintain it in place as you apply and adjust the straps.
3. Strap securely. As you bring the bike up, keep the side-stand down. This will provide extra security on the way up and while you strap the motorcycle in, once in the trailer. Put the front wheel in the chock which will help it from tipping. Keep the bike upright as you attach the straps (the side-stand will be off the ground once this step is completed). Experts recommend heavy-duty, ratchet-style straps for easier application and better control of the strength. Once the strap is on, just activate the ratchet to tighten.
Apply the straps at minimum over the front (usually handlebars) and seat of the bike at a 45-degree angle. For extra security, pros recommend a third strap over the back end of the bike.
4. Test before you drive. Once you have the bike securely strapped down, walk around inside the trailer and nudge the motorcycle with your hand. It shouldn't move. If it does, go back and readjust the straps.
There is a Pace American custom enclosed motorcycle trailer to meet your needs. Call or visit one of our knowledgeable Pace American trailer dealers to begin your shopping journey.