WHY PACE'S ENCLOSED TRAILERS CAN MAKE FOR A PERFECT GETAWAY VEHICLE
Whether you're a prepper getting your bug-out transportation ready or you just want to get off the grid at a moment's notice, a camper trailer package can be a great solution. In this post, we'll take a look at why you might want to get off the grid, what to look for in a camper trailer, and tips for how to stock it.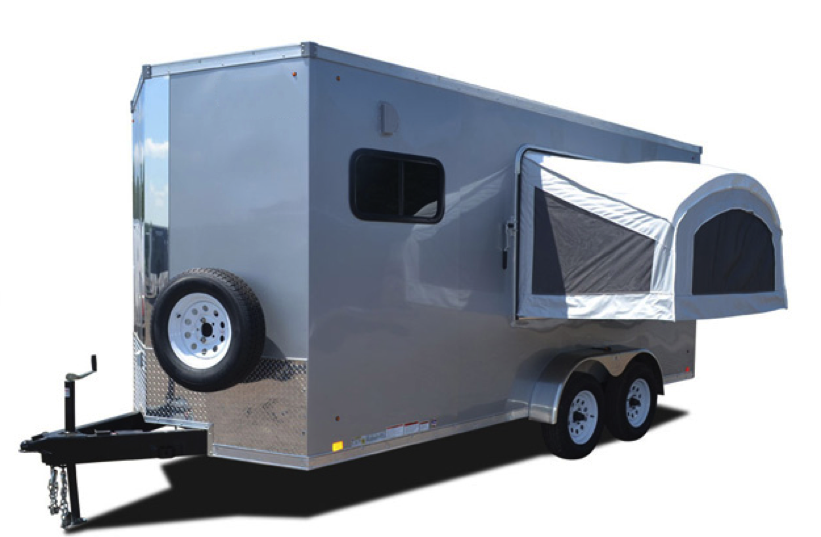 Reasons to get off the grid
Some people like the idea of being prepared for an emergency when a natural disaster or other occurrence makes it impossible or unwise to stay home. Others simply want to unplug from computers, phones, noise and the hectic pace of everyday life.
1. Emergency preparedness

There are good reasons for being prepared, especially if you live in an area where natural hazards like hurricanes and earthquakes are more likely. Or, you live in an isolated area where emergency services might not be able to get to you quickly.
The Federal Emergency Management Agency (FEMA) says there are benefits to being prepared for an emergency. Just the act of having a plan, a first aid kit, alternative shelter and supplies on hand can make people feel less anxious. If an emergency does occur, you will be in a better position to take care of yourself and others should responders be delayed or need to focus their efforts elsewhere.
FEMA recommends you be ready to be self-sufficient for at least three days. This may mean providing for your own shelter, first aid, food, water, and sanitation.
2. Renegade Camping or Boondocking

While preparation for an emergency is always important, many people like to have a vehicle or enclosed camper trailer ready to go just in case they want to get away from it all. A new trend is 'renegade' camping or 'boondocking.' You're in the great outdoors, but camping outside of designated campgrounds with no power, no services, no luxuries and–best of all–no crowds.
In this type of off-the-grid camping, you have to bring everything you're going to need with you–including bathroom facilities! Extra food, water, and camping supplies are key, because you may not be able to get to 'civilization' quickly.
Public lands where you can usually camp include Bureau of Land Management property and National Forest land–but always obey signs and check with rangers to be sure. You may also need to pay a fee and get a permit to build a fire. A quick search on the internet will provide you with information on where to find public land and other areas where you can camp off-the grid.
Of course, just because you're far away from the crowd doesn't mean you don't have to pick up after yourself. "Leave no trace" is the rule of outdoor adventure, even if you're a renegade.
Having a small camper trailer packed and ready to go just adds to the sense of adventure. You can leave at a moment's notice for a relaxing weekend alone with nature.
Benefits of a cargo trailer with camper package
Regardless of whether you're blazing a trail or hunkering down to wait out the storm—there are certain basics you will need to survive, beginning with shelter. 
Pace American's Camper Trailer Package allows you to store and haul your day-to-day cargo, while also serving as a convenient and lightweight unit to take you out into Mother Nature and return you safely back home. It's an economical choice that gives you flexibility while providing shelter, a place to sleep comfortably (double or queen bed), and room for all your supplies.
Another advantage of owning a small trailer with a camper package is flexibility. Rather than having a full-size camper sitting on your property, you can have a smaller trailer with the basics that you hitch to your standard vehicle, or larger, fully-loaded bug-out vehicle. 
What's more, you can customize your Pace cargo trailer beyond the camper package. Choose from a host of options, such as:
-an exterior generator box or interior generator compartment
-a sink and toilet
-carbon monoxide detector
-overhead furnace
-shower
-fold-down tables
Off-the-grid supplies
Once you have your cargo trailer outfitted with basic needs such as power, sanitation, and a sleeping area, it's time to load up so you are ready to go.
The supplies and equipment you put in your camper trailer depend a lot on what you plan to use it for. This is by no means a comprehensive list, but most preppers and hardcore campers agree there are certain supplies everyone should bring:
For survival:
Water
Non-perishable food
Cook top and fuel
Basic first aid kit
Whistle, pocket knife, binoculars and compass
Can opener
Axe
Fire extinguisher
Flashlight and extra batteries
Duct tape
Small shovel
Matches or lighter
Extension cords
For vehicle maintenance:
Tire pressure gauge
Rope and bungee cords
WD-40
Clean rags
Jumper cables
Extra vehicle fluids
Basic tool kit including combination wrenches, hammer, screwdrivers
Spare bulbs and fuses
For sanitation and personal care:
Holding tank chemicals
Medications
Toilet paper
Sunscreen
Insect repellant
Personal care items
Trash can and liners
Disposable wipes
For personal use:
Clothing including waterproof poncho, boots, and thermal underwear
Backpack
Bikes and helmets
Books
Headlamp and extra batteries
Bandana
Blankets
Now that you know the basics, make sure you use our Dealer Locator to find a Pace American enclosed trailer with camper package, load it up, and hit the road.