Pace American Trailers and Options for Every Business and Hobby Use
Even if your current enclosed cargo trailer is still running strong, there are many reasons why it may be time to upgrade. Maybe your business (or hobby) has expanded. Perhaps you can now afford a few more bells and whistles, so you want to move up. Or maybe your old trailer is a little worn, and it's time to trade up to something shiny and new.
At Pace American, we have a wide range of enclosed cargo trailers and options to choose from when it's time to upgrade. Whatever problem you have, we have a solution.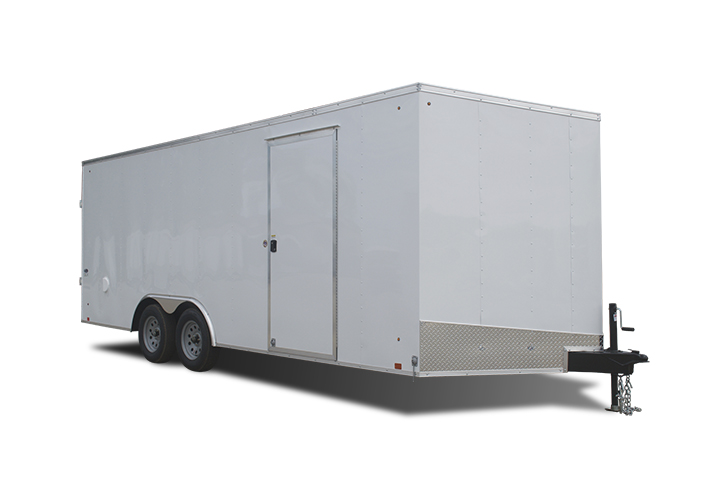 Problem: Your cargo exceeds your current trailer's capacity.
Solution: Move up and into the Outback DLX 8.5' wide model. With an 8.5' width and lengths from 16' to 24', this enclosed cargo trailer loads with ease, thanks to a double rear aluminum framed door. Plus, the 16' Outback DLX has a maximum payload capacity of 4,340 lbs. So, bring on your extra cargo!
Problem: Your heavy equipment has gotten heavier.
Solution:  The PXT extreme heavy duty cargo trailer can handle it. Known for its durability, safety, and reliability, the PXT line is a workhorse. Standards include a 16" on center frame, roof bows and side walls; torsion axles; .030 aluminum screwless exterior; and 15" radial tires, among many others. Plus, it looks good.
Problem: Your motorcycle hobby has expanded.

Solution: Add on to your capacity with a Legacy premium enclosed motorcycle trailer with lengths up to 16'. You'll have plenty of room for two bikes, plus space to add a helmet cabinet and spare tire compartment. Standard features include white vinyl ceiling and walls, six-piece floor E-track, two wheel chocks, and a ramp door with spring assist, 12" ramp extension and transition hinge cover. Arrive at your next meet-up in style with an optional checkerboard floor and flame decal.
Problem: Your car trailer's look lags behind your level of success.
Solution: Rally your race car trailer game with the Pace Shadow GT. The 'king of custom trailers' holds a load of standard features and comes in first on high-end options. The stacker version offers the most flexibility: you can carry two cars or one, and a ton of tools and gear. Standards include heavy-duty ramp door with spring assist and 16" ramp extension, white insulated ceiling liner, 48" heavy-duty entry door with flushlock and metal holdbacks, stainless trim and two-tone available at no charge. Spiff it up further with e-track surface or recessed in walls and floor, aluminum rims, a rubber treadplate floor, and an in-floor spare tire compartment.
Problem: You're hauling more, and more precious, cargo.

Solution: Ramp up to the heavy-duty safety of a Cargo Sport Enclosed Gooseneck cargo trailer. This is the one to rely on when you need to get your cargo securely to its destination. With Pace American quality construction, these Gooseneck cargo trailers come in 28' to 53' lengths. But the 8.5' high x 8.5' width keeps the profile low and slim enough to take almost anywhere. Safety comes first, with standard features like electric brakes, spring axles, and LED lights. Add more safety with options like a 48-inch RV roadside escape door, extra 5,000 lb. D-rings, an under-floor spare tire compartment with hinged cover, and rubber treadplate flooring to help you keep your footing when you're loading the trailer.
Problem: You need to be in two places at once.
Solution: A Wildcat Mobile Office trailer. When you have multiple work sites, or a succession of temporary sites, a mobile office trailer will help you keep your business running. The Wildcat will go anywhere, from a paved development site to the rough terrain you find working in the oil and gas industry. You can customize your mobile office trailer to suit your business needs, from choosing among nine stand-out colors to adding a generator package that will allow you to manage crews and projects, whatever the weather.
Could your business or hobby benefit from a cargo trailer upgrade? Are you ready to step up to the next level? Visit a Pace American Dealer and let them help you choose the trailer and options that are right for you.