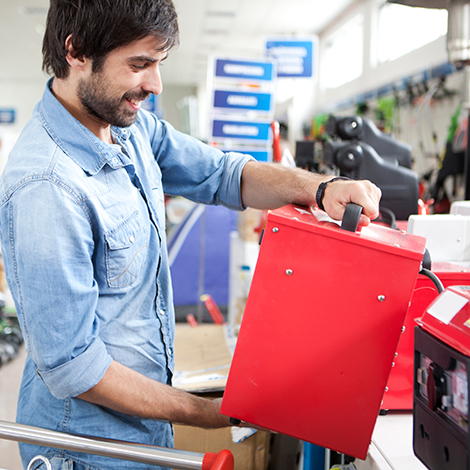 TRAILER CUSTOMIZING MADE EASY WITH A PACE AMERICAN 
Your Pace American trailer comes standard with the features you need the most to ensure a smooth and secure haul. In addition to the numerous standards and premium upgrades available at the time of purchase, there's always room for further customization. 
Customized cargo trailers are a Pace American specialty, so we'd like to take a moment to offer some insight into the best cargo trailer parts on the market. From tool racks to trailer packages and more, there's always something to make your towing experience even better than before. 
Note: Adding third-party components to your cargo trailer may void your warranty, so it is always best to contact Pace American Customer Service before making any changes. 
CARGO TRAILER PARTS FOR ULTIMATE CUSTOMIZATION 
Keep your gear in place and organized with: 
Tool boxes. Whether internal or external, a durable tool box mounted on your trailer can make all the difference. Instead of finding a new spot for gear each time the trailer is loaded, make use of a tool box that can be equipped numerous ways.
These can include single or dual tongue tool boxes that are attached to the trailer's tongue, keeping them out of the way and freeing up valuable space.
Attaching a tool box to the interior wall is a good way to keep items within reach and where you expect to find them, while keeping away unwanted outside elements.
Equipment racks. You can always add shelving to the interior or your trailer, whether by old-fashioned know-how or by utilizing the convenient e-tracks found on some of our Pace American trailers. These allow you to connect additional items wherever you need them along the trailer walls, while keeping them relocatable as contents change.
Large items, such as rakes, shovels and hoses, are often a pain to keep organized. By adding a rack, you can keep these against the wall for easy handling and quick identification.
Wiring can be a headache to store and transport. Thankfully, many suppliers now offer tubes and cable holders that keep everything securely in one spot.
Your ladder can always find a home on a Pace American trailer, especially if you can opt for the upgradable ladder rack found on most units. These can be attached to the unit's exterior for maximum accessibility and space saving.
Chemical holders. Since every business is unique, every business should have the option to store whatever it is they need. If your line of work requires the need for cleaning, or if you simply need a spot to store your towing vehicle's additional oil and fluids, there are plenty of options available on the market.
From small, large, metal, plastic and otherwise, there are multi-functional shelves and cabinets designed to keep your items in place during transit. Long metal shelves (with a tall lip) are great for cans and bottles, while deeper cabinets are ideal for paint cans and anything you're worried may leak if tipped over.
You can even find cabinets that can be attached to the door, wide flat shelves that act as makeshift tables, as well as suppliers who provide handwashing stations that include soap and paper towel holders. 
Document tubes, filing shelves, or lockable boxes for sensitive/pertinent materials. If your business needs to prove its accreditation, if you want to show off the awards you've won or if you simply need to keep important documents away from the day-to-day elements, you have choices at your disposal.
 NOT LOOKING FOR A THIRD-PARTY SUPPLIER? UPGRADE WITH PACE AMERICAN 
When you're looking to upgrade your trailer components, Pace American doesn't make you look far. Purchasing one of our enclosed cargo trailers allows you to take advantage of the many options available for your unit, whether it's a snowmobile trailer, utility trailer, car hauler or otherwise. We offer trailer packages designed for your specific needs, while keeping your travels in style. For example:
Our Heater Package keeps your snowmobile and accompanying gear warm with a 34,000-BTU furnace, a heated helmet cabinet, dual 20-lb propane tank, and more.
As the name implies, our Appearance Package is ideal for those looking to make a great first impression, no matter where they pull up.
With any of the select enclosed trailer upgrades mentioned above, you can turn a standard haul into a premium one quickly and affordably. With the many popular options available to Pace American customers, as well as the countless resources found online, you'll never have to worry about what your trailer can and cannot do for you.