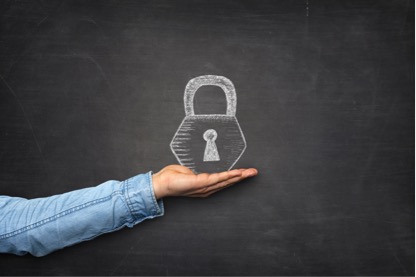 KNOWING HOW TO SECURE A TRAILER CAN MAKE ALL THE DIFFERENCE 
While a Pace American trailer can ensure that most of your trip is well within your control—thanks to the tube frame construction, versatile hauling sizes and premium upgrades—there's a time when it's up to the owner to make sure their transportation is ultimately safe and secure. This month, we're talking about theft. No one wants to see their trailer rolling down the road without them or an open trailer door with an empty interior and no idea where their equipment and toys have disappeared to. So, in order to combat this, we'd like to discuss a few simple ways to deter trailer theft and ensure peace of mind no matter where you park. 
CARGO TRAILER SECURITY STARTS WITH THE BASICS 
Pick a parking spot based on more than just space. Make sure you're choosing a spot that is well-lit so that no one can sneak around in the shadows without being spotted by passersby.
If possible, park your trailer where it can be hidden from a lot of traffic or footpaths that could draw wandering eyes. This doesn't mean you have to deck it out in camouflage, but you should use large buildings and tall fences to your advantage.
Have a garage large enough to accommodate your hauler? With the economical sizes Pace American trailers come in, you're best off parking it indoors. This won't just deter thieves, but it will help protect the trailer from other harmful external elements.
As much as you'd hope a neighbor or good Samaritan might warn of a potential trailer theft in progress, it's best to keep your trailer within your own eyesights.
LIKE HOMES, DOORS AND BICYCLES, IT'S BEST TO SIMPLY LOCK IT UP
There are plenty of manufacturers producing sturdy and reliable locks that can be equipped on a number of your trailer's parts. And, they're typically not very expensive for such an easy means of determent.
Padlocks are a classic choice for your side doors, flushlock handles and for attaching safety chains together with the hitch to make it a difficult task of disconnecting and driving away.
Thieves would rather take the trailer altogether and deal with the actual breaking and entering somewhere of their choosing, so it's best to make this as hard as possible. By using trailer hitch locks and coupler locks you can add an extra means of connection between the towing vehicle and the trailer hitch. With the hassle of trying to steal an actual automobile, most thieves will just move onto an easier target.
Wheel locks, much like the boot placed on an automobile, make driving away a costly and near-impossible feat, so if you're willing to go the extra step for your possessions, these are always a good idea.
A UNIQUE PAINT JOB CAN SERVE MULTIPLE PURPOSES TOWARDS YOUR TRAILER'S SECURITY 
Your favorite phrase, an iconic image or the brightest color you've always wanted to showcase… whatever it is, toss it up on your trailer's exterior. Not only will you have a nice trailer to look at that reflects your personality, but you'll also have a cargo trailer that's identifiable in a pinch. No thief wants to drive around in something that can be spotted by a police officer with a passing glance.
If you'd rather not invest in a large paint job and want to keep that shining exterior as it was intended, then some stickers, decals, company logos, etc. are also an easy way to distinguish your trailer without cluttering up the exterior too much. Just remember, the easier it is to identify, the less likely it'll be mistaken as any other hauler on the road.
WHEN IN DOUBT, DECK IT OUT WITH AN ALARM SYSTEM OR VEHICLE TRACKING DEVICE 
We've all heard the alarm that keeps you awake or the one that makes you jump and look to see exactly what's going on. Relying on the same old principle of drawing attention to deter individuals, even the cheapest alarm will catch your attention. After all, you'll be looking out for it and it'll wake you up in the middle of the night.
Worst case scenario, your trailer is taken for a joy ride and you're left holding the keys. A simple GPS device will ensure you can keep track of your trailer's whereabouts and alert the proper officials to track it down wherever it stops next.
At Pace American, we hope none of our owners ever have to experience trailer theft, and with some proper precautions, hopefully the chance of this can be greatly reduced, if not eliminated altogether. Now that you're armed with a few tips regarding how to secure a trailer, you can get out on the road with more peace of mind from one unknown destination to another. 
If you're looking for additional trailer safety and towing tips, you can check out Pace American's Towing & Safety page or browse last month's blog dedicated to Trailer Towing Basics.